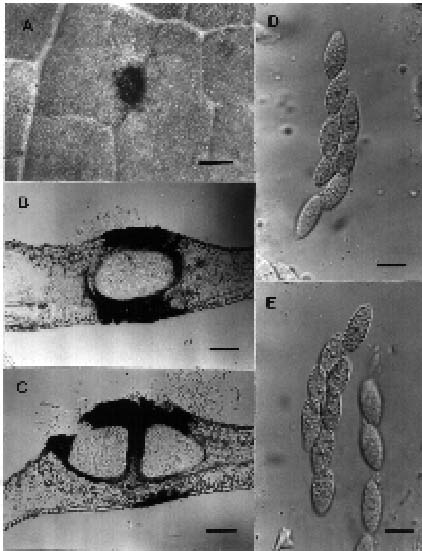 Mycelium superficiale, hypophyllum, ex hyphis repentibus, atrobrunneis, septatis, laevibus, ramosus, 3_4 mm latis. Hyphopodia 4_8 mm lata, usque 10 mm alta, integra vel 2_3-lobata, continua, alternata, raro opposita, brunnea, laevia. Ascomata 70_90 mm lata et 35_60 mm alta, globosa, superficialia. Paries ascomati gelatinosum diffluentes. Asci 30_45 mm lati, globosi, pauci, bitunicati, crassitunicati, octospori. Ascosporae 17.5_22 × 8_11 mm, ellipsoideae vel oblongo ovoideae, atrobrunneae, mediane 1-septatae, constrictae, echinulatae.—TYPE: Taiwan, Nantou Hsien; Tungpu, In foliis Villebruneae pedunculatae Shirai (Urticaceae), leg. C.Y. Chen, 7 Apr 1995, NCHUPP 2356.
Superficial mycelium loosely reticulate, hypophyllous, dark bown, septate, smooth, branched, hyphopodiate, 3_4 mm wide. Hyphopodia 4_8 mm wide, up to 10 mm high, entire or 2_3-lobed, alternate, rarely opposite, brown. Ascomata 70_90 mm wide, 35_60 mm high, superficial on mycelia, globose. Peridium mucose diffluent early. Asci 30_45 mm wide, globose, thick-walled, few, bitunicate, 8-spored. Ascospores 17.5_22 × 8_11 mm, ellipsoid or oblong ovoid, dark brown, 1-septate in the middle, constricted at the septum, distinctly echinulate, conglobate inside the ascus. No anamorphs found associated on the material.
Notes. Many species have been described in this genus (Hughes, 1984, 1987; Sivanesan, 1984). No species have been reported either on Villebrunea (Urticaceae), or on other host genera belonging to Urticaceae.
New Records
Coleroa chaetomium (Kunze : Fr.) Rabenh., Herb. Mycol. no. 1456, 1859 Figure 3
For synonyms, see Barr (1968).
Mycelium epiphyllous, occasionally forming hypostroma of one or two layers of palisade-like cells, hyaline to pale brown in colour, not forming leaf spots. Ascomata developing originally from the subcuticular mycelium or hypostroma, erumpent and then becoming superficial, subglobose, 126_180 mm in diam., connate with a flattened base, ostiolate at the rounded apex, scattered to aggregated in small groups, often confluent, setose over the upper half, setae few to numerous, continuous or with few septa, dark brown, erect, stiff, up to 60 mm long, swollen at the base, slightly attenuate upwards. Peridium 10_14 mm thick around the upper and lateral sides, composed of 3_4 layered, dark brown, polygonal, laterally compressed cells, the basal portion 20_32 mm thick, applanate, composed of many layers of hyaline to light brown, polygonal cells, peridial wall of cells of textura angularis, up to 16 mm wide. Asci bitunicate, basal, saccate to oblong, 39_57 × 11_14 mm, sessile, apex rounded and thick-walled; pseudoparaphyses sparse, deliquescent. Ascospores biseriate, broadly clavate, 11_16 × 5_6 mm, widest at the upper third, septate below the middle, yel